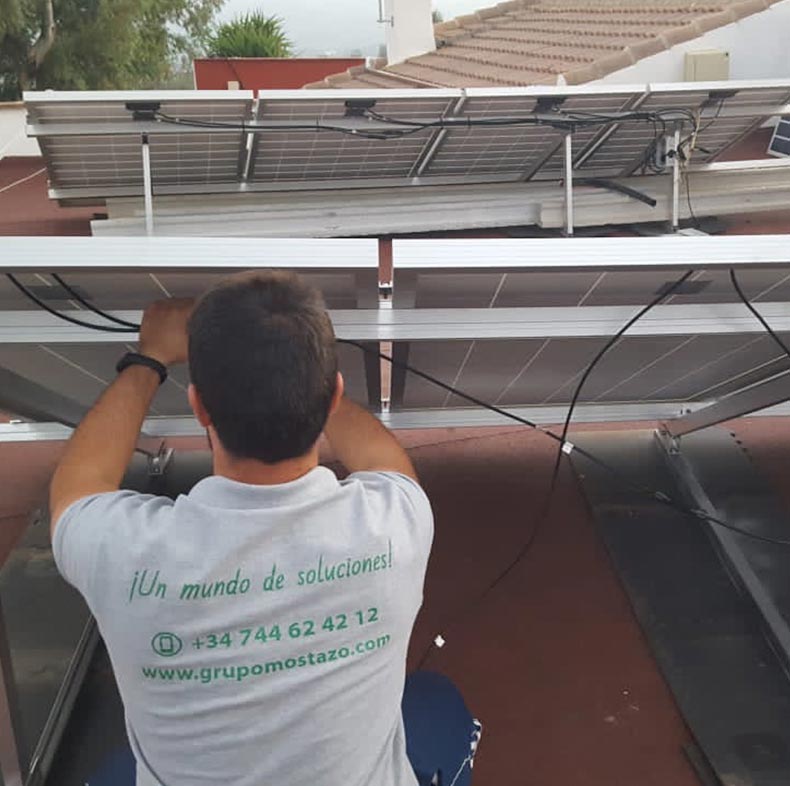 Installation
Photovoltaic installations are one of the cleanest, quietest and most cost-effective renewable energies. You should see your installation as a medium-term investment, and we will take care of the whole process (including the tedious paperwork). Before starting the installation, we will carry out a study of your case to meet all your requirements.
Besides, whenever you wish to, the panels will be sized with the possibility of increasing the wattage output without having to make major changes. We ensure that installations are made with a firm base (foundation) on roofs and other surfaces to ensure that the installation can withstand the elements.
Sale
We can provide you with the solar panel that best suits your needs, as well as the material necessary for its installation and maintenance. All our products and installations come with a comprehensive manufacturer's guarantee. Contact us and tell us what you need. We will advise you on what type of solar panel best meet your requirements, complementary material, etc.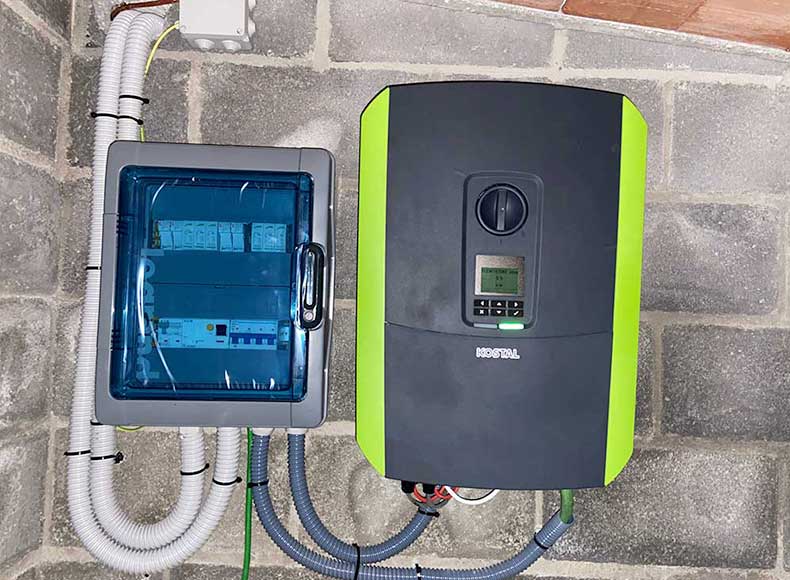 Repair/service
We take care of servicing and repairing your solar panels and photovoltaic installation. Photovoltaic and thermosiphon systems are the most common and do not require a high level of maintenance, as the solar panels are highly resistant and durable, and the rest of the components require minimal maintenance.
You should bear in mind that electricity production could be reduced if the panels are not properly serviced.
Discover our installations
Request information
for your installation
Installation

in our customers' homes.
We can also visit you
to provide an estimate
Frequently asked questions
Discover the questions our customers often ask us before installing their solar panels.
How do solar panels work? Why should I install them?
Broadly speaking, a solar panel consists of a set of photovoltaic cells joined together. Each photovoltaic cell harnesses the energy of photons (particles of light) to move free electrons in the material it is made of, thus generating a flow of electric current.
This energy generated by a photovoltaic cell has a very low voltage, but by combining several cells, similar to the way batteries are combined, we obtain sufficient voltage. This way, a solar panel can generate current at 12, 24 or 48 volts, depending on the number and combination of these cells.
As solar panels have no moving parts, they need virtually no maintenance, just cleaning and checking from time to time. And because of the way they generate electricity and the amount of sunshine we have in our country, they are one of the cleanest, quietest and most cost-effective renewable energies that can be installed.
If you are looking for a solar energy company in Velez-Malaga or Axarquia you can count on our company. We have professional installers.
How much can I save with my photovoltaic system?
Any installation of solar panels should be seen as a medium-term investment.
At the beginning of the project, a significant outlay is required. However, due to the low maintenance and almost constant production that we can have in our country, it usually pays for itself within 6 to 8 years.
From that moment on, you can say that you are consuming electricity for free, and as the lifetime of the solar panels is very long, you can save a lot of money.
There is also the possibility of reverting the energy you produce, and do not use, back to the main grid, so that you will receive a financial contribution from the electricity provider for your contribution to the grid. They will deduct it from the electricity you spend at night.
Another way to save is to change your electricity bill with our company where all the kW produced come from renewable energy. We give our customers a special day-night rate so that during the day, they use solar energy and at night, the price per kW is minimal.
To have exhaustive control and thus save more, our systems come with an app to see the consumption, production and investment to the grid at every moment of the day. This way, you will know when it is more profitable to use energy.
If you are already connected to the main grid and do not use it because a solar system with sufficient power was installed, one way to calculate the savings is to add up the amount of energy in a year's bills: the result will be the amount saved per year.
If the installation is for self-consumption, although the outlay is a little higher, when the amortisation period is exceeded, the savings can be even greater, as everything produced is free and there is no electricity bill to pay.
Is it possible to apply for grants?
You can request a subsidy from the Junta de Andalucía to help finance the photovoltaic installation. Our company can manage this process. This service has an additional cost and it would have to be paid even if it is finally rejected.
The cost for the application, file analysis, gathering documentation, procedures and preparation of forms is €150. If the subsidy is awarded, the justification, drafting of the justifying report and processing before the AAE would have to be paid at a cost of 0.03/Wp with a minimum of €200.
Today, it can be applied for, but the aid is exhausted pending a new injection of money.
Advantages:
The aid varies between 40%-60% of its cost, depending on the type of installation.
Disadvantages:
They imply an additional charge for documentation and management.
Taxation of a percentage in the income statement.
In certain cases there are other requirements to be resolved, which imply an additional expense in the installation, such as DAFO or procedures, among others.
It may not be granted.
How long does it take to install?
To start the installation we give a period between 2 weeks and 2 months, it depends on the availability of the necessary materials and the amount of work of the technical team and once we start with your installation we will start it up in 2-3 days in installations up to 7kW.
If there is a power outage, will I still be able to have energy with the photovoltaic system?
No, if batteries are not installed, since the inverter uses the mains voltage to work.
To continue having electricity with a power outage, batteries and a switching panel or BACK-UP must be installed.
What are the requirements for installing a solar panel?
The main requirement is a south-facing space with sufficient daytime sunlight and no shadows. A little bit of shade, even if it is only one tree branch, is capable of cancelling the entire production of all the panels that are shaded.
The main requirement is a south-facing space with sufficient daytime sunlight and no shadows. A little bit of shade, even if it is only one tree branch, is capable of cancelling the entire production of all the panels that are shaded.
In a self-consumption installation, it is also necessary to have a suitable space for the batteries and the inverter, away from flammable gases, humidity and in a well-ventilated area. Also as close as possible to the panels.
If you need advice for your solar panels in Velez-Malaga or Axarquia you can count on our photovoltaic energy specialists, experts in installation, maintenance and sales.
What maintenance does a solar installation require?
Solar panels are generally very low maintenance.
You only need to clean them when you notice that they are a little dirty, as this reduces production. An inspection by qualified personnel is also required every 1 to 2 years; to check that the installation is still in good working conditions and that there is no damage.
To keep the solar panel clean, just use water with a small amount of soap. It is advisable to clean the solar panel at least 2 to 4 times a year, depending on the area where they are installed.
In photovoltaic installations, you should bear in mind that an inspection by our professionals would be necessary, from time to time. A biannual review to check that the installation is working properly and that there is nothing damaged will be enough.
In the case of self-consumption systems and traditional lead-acid batteries, the distilled water level should be checked every 6 months and topped up if necessary. If you use lithium batteries, you do not have to worry about maintenance.
In the installations of solar thermal (thermosiphon) equipment, an annual revision will be necessary for a correct operation. Several parts of the equipment, such as the magnesium anode, should be replaced. Other maintenance services include: filling the primary circuit with propylene glycol and checking for leakages and other parts of the structure.
If you need maintenance of solar panels in Velez-Malaga you can count on our experts to help you solve any problem with your photovoltaic installation.
Can we help you?
Contact us to request a visit or an estimate.